Journals
ISEE is proud to have productive partnerships with four environmental health journals. Read more below.
Official Journals
Epidemiology and Environmental Epidemiology are the official journals of the ISEE. ISEE members enjoy special benefits from these journals including online access, discounted article processing charges, and increased dissemination of published papers. ISEE regularly invites and sponsors commentaries that are published in these two journals.

ISEE members receive a free online subscription to Epidemiology, an official journal of ISEE. Published six times yearly, Epidemiology is a peer-reviewed scientific journal that publishes original research on the full spectrum of epidemiologic topics.
Access is direct via the member login of the ISEE website. Once logged in, click on Epidemiology on the home page of your member profile.
ISEE members may purchase a yearly subscription for the print version of
Epidemiology
for an $84 reduced member rate. The subscription can be purchased as you join ISEE or renew your membership.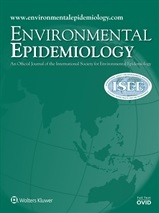 A companion to Epidemiology, Environmental Epidemiology is an online only, open access journal aiming to provide a global forum for environmental epidemiology research. The inaugural Editor-in-Chief is Bert Brunekreef, PhD, Professor of Environmental Epidemiology at Utrecht University, The Netherlands and past president of ISEE. Manuscripts may be submitted online here.
ISEE members receive a 20% discount on article processing charges (APC). During the article submission process the member will need to enter their ISEE member ID (which can be found under Member Info, and clicking Change Contact/Profile Info, Member ID is located at the top of the page, available after logging into the Member section on iseepi.org). Requests to obtain a full APC waiver (available to members from low- and middle-income countries) should be sent directly via email to the Editor-in-Chief before submission.
Affiliate Journals
Environmental Health Perspectives (EHP) is a monthly peer-reviewed journal of research and news published with support from the National Institute of Environmental Health Sciences, National Institutes of Health, U.S. Department of Health and Human Services. EHP's mission is to serve as a forum for the discussion of the interrelationships between the environment and human health by publishing high- quality research and news of the field. All EHP content is available free online.
ISEE and EHP enjoy a mutually beneficial partnership including joint planning of the annual conference, early career, capacity building, and educational activities. EHP typically also publishes the abstracts from the ISEE annual meeting.

International Journal of Environmental Research and Public Health (IJERPH) is an international open access journal published by MDPI. It covers Environmental Sciences and Engineering, Public Health, Environmental Health, Occupational Hygiene, Health Economic and Global Health Research, etc. Many ISEE members serve as Editors and Special Issue leads.
The ISEE-IJERPH arrangement is in effect for a one-year trial period (start date March 1, 2021), at which point both sides will determine if the partnership should be extended, modified, or terminated. The affiliation provides the following benefits to ISEE:
A 15% discount on article processing charges (APC) for all ISEE members
Ten full APC waivers per year
Free publication of up to four policy papers/commentaries
Funds for annual conference travel awards
Two fee waivers for any Special Issue headed by ISEE or ISEE members
ISEE members must be logged in to access these instructions to obtain the IJERPH discount. To submit a manuscript, register or login at the publisher's site here.
The Communications Committee is soliciting commentaries from members
ISEE sponsors commentaries in three journals, Epidemiology, Environmental Epidemiology and International Journal of Environmental Research and Public Health; commentaries can be on any topic of broad interest to ISEE members. Examples of previous commentaries can be found here.

Interested in a potential commentary submission? Read about the commentary process and reach out to Laura Corlin and Kenza Khomsi.